Leatherbarrel Lodge is located in Thredbo, Australia's premier year round resort. An exciting renovation project in 2011/12 upgraded the Lodge facilities to include seven spacious bedrooms all with en-suite bathroom. All the rooms have mountain views. Also a new street-level ski room has added to the winter facilities, making easy access for skiers in and out of the lodge.
The Lodge is situated in at the quieter eastern end of Thredbo Village on Bobuck Lane, with great northwest views of the mountain ski runs and sufficiently far from the noise of the snow-making during the winter season nights. There is a communal use kitchen, dining & lounge area, laundry, ski room, car parking and a large sunny deck with a barbecue. It is an ideal lodge for winter and summer holidays.
The lodge is self-catering with plenty of pantry space and two big refrigerators, gas cook top and convection microwave oven. The lodge does not have WiFi, TV or sound system. Guests bring their own bed linen, pillow slip and bath towels. There is a resident caretaker that does the cleaning of rooms and bathrooms. Outside is the Ski Bus stop in winter time for connections to the Valley Terminal or Friday Flat.
Check-in in time is 4:00pm and Check-out is at 9:00am.
Leatherbarrel Lodge was formed in 1973 with the purchase of the Jubilee Lodge by a small group of ski enthusiasts seeking a place in the snowfields and Thredbo in particular. The Lodge is a Cooperative of 35 members and there are still founding members actively involved.
2022 Winter Season
We are taking weekly bookings on a Saturday to Saturday basis.
We also will accept weekend and mid-week bookings for minimum 2 nights during the week.
Things may change if Covid-19 restrictions are applicable.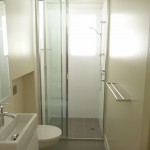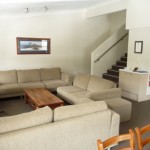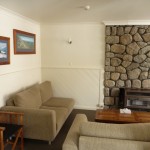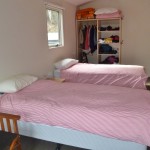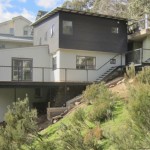 Rates
Bookings
For bookings contact Sue Mountford – Email
Availability
| | Room 1 | Room 2 | Room 3 | Room 4 | Room 5 | Room 6 | Room 7 |
| --- | --- | --- | --- | --- | --- | --- | --- |
| Date | 3/4 beds | 2/3 beds | 3 beds | 3/4 beds | 2 beds | 2 beds | 2 beds |
| WINTER 2022 | | | | | | | |
| Mon July 18 | room 1 | BOOKED | BOOKED | room 4 | BOOKED | BOOKED | room 7 |
| Tues July 19 | room 1 | BOOKED | BOOKED | room 4 | BOOKED | BOOKED | room 7 |
| Wed July 20 | BOOKED | BOOKED | BOOKED | room 4 | BOOKED | room 6 | BOOKED |
| Thur July 21 | BOOKED | BOOKED | BOOKED | room 4 | BOOKED | room 6 | BOOKED |
| Fri July 22 | BOOKED | BOOKED | BOOKED | BOOKED | BOOKED | BOOKED | BOOKED |
| Sat July 23 | BOOKED | BOOKED | BOOKED | BOOKED | BOOKED | BOOKED | BOOKED |
| Sun July 24 | room 1 | BOOKED | BOOKED | BOOKED | BOOKED | BOOKED | BOOKED |
| Mon July 25 | room 1 | BOOKED | BOOKED | BOOKED | BOOKED | BOOKED | BOOKED |
| Tues July 26 | BOOKED | BOOKED | BOOKED | BOOKED | BOOKED | BOOKED | BOOKED |
| Wed July 27 | BOOKED | BOOKED | BOOKED | BOOKED | BOOKED | BOOKED | BOOKED |
| Thur July 28 | room 1 | BOOKED | BOOKED | room 4 | BOOKED | BOOKED | room 7 |
| Fri July 29 | room 1 | BOOKED | room 3 | room 4 | BOOKED | room 6 | room 7 |
| Sat July 30 | BOOKED | BOOKED | BOOKED | BOOKED | BOOKED | BOOKED | BOOKED |
| Sun July 31 | BOOKED | BOOKED | BOOKED | BOOKED | BOOKED | BOOKED | BOOKED |
| Mon Aug 1 | BOOKED | BOOKED | BOOKED | BOOKED | BOOKED | BOOKED | BOOKED |
| Tues Aug 2 | BOOKED | BOOKED | BOOKED | BOOKED | BOOKED | BOOKED | BOOKED |
| Wed Aug 3 | BOOKED | BOOKED | BOOKED | BOOKED | BOOKED | BOOKED | BOOKED |
| Thur Aug 4 | BOOKED | BOOKED | BOOKED | BOOKED | BOOKED | BOOKED | BOOKED |
| Fri Aug 5 | BOOKED | BOOKED | BOOKED | BOOKED | BOOKED | BOOKED | BOOKED |
| Fri Aug 6 | BOOKED | BOOKED | BOOKED | BOOKED | BOOKED | BOOKED | BOOKED |
| Sun Aug 7 | BOOKED | BOOKED | BOOKED | BOOKED | BOOKED | BOOKED | BOOKED |
| Mon Aug 8 | BOOKED | BOOKED | BOOKED | BOOKED | BOOKED | BOOKED | BOOKED |
| Tues Aug 9 | BOOKED | BOOKED | BOOKED | BOOKED | BOOKED | BOOKED | BOOKED |
| Wed Aug 10 | BOOKED | BOOKED | BOOKED | BOOKED | BOOKED | BOOKED | BOOKED |
| Thur Aug 11 | BOOKED | BOOKED | BOOKED | BOOKED | BOOKED | BOOKED | BOOKED |
| Fri Aug 12 | BOOKED | BOOKED | BOOKED | BOOKED | BOOKED | BOOKED | BOOKED |
| Sat Aug 13 | BOOKED | BOOKED | BOOKED | BOOKED | BOOKED | BOOKED | BOOKED |
| Sun Aug 14 | BOOKED | BOOKED | BOOKED | BOOKED | BOOKED | BOOKED | BOOKED |
| Mon Aug 15 | BOOKED | BOOKED | BOOKED | BOOKED | BOOKED | BOOKED | BOOKED |
| Tues Aug 16 | BOOKED | BOOKED | BOOKED | BOOKED | BOOKED | BOOKED | BOOKED |
| Wed Aug 17 | BOOKED | BOOKED | BOOKED | BOOKED | BOOKED | room 6 | BOOKED |
| Thur Aug 18 | BOOKED | BOOKED | BOOKED | BOOKED | BOOKED | room 6 | BOOKED |
| Fri Aug 19 | BOOKED | BOOKED | BOOKED | BOOKED | BOOKED | BOOKED | BOOKED |
| Sat Aug 20 | BOOKED | BOOKED | room 3 | BOOKED | BOOKED | BOOKED | BOOKED |
| Sun Aug 21 | BOOKED | BOOKED | room 3 | BOOKED | BOOKED | BOOKED | BOOKED |
| Mon Aug 22 | BOOKED | BOOKED | room 3 | BOOKED | BOOKED | BOOKED | BOOKED |
| Tues Aug 23 | BOOKED | BOOKED | room 3 | BOOKED | BOOKED | BOOKED | BOOKED |
| Wed Aug 24 | BOOKED | BOOKED | room 3 | BOOKED | BOOKED | BOOKED | BOOKED |
| Thur Aug 25 | BOOKED | BOOKED | room 3 | BOOKED | BOOKED | BOOKED | BOOKED |
| Fri Aug 26 | BOOKED | BOOKED | room 3 | BOOKED | BOOKED | BOOKED | BOOKED |
| Sat Aug 27 | BOOKED | BOOKED | BOOKED | BOOKED | BOOKED | BOOKED | BOOKED |
| Sun Aug 28 | BOOKED | BOOKED | BOOKED | BOOKED | BOOKED | BOOKED | BOOKED |
| Mon Aug 29 | BOOKED | BOOKED | BOOKED | BOOKED | BOOKED | BOOKED | BOOKED |
| Tues Aug 30 | BOOKED | BOOKED | BOOKED | BOOKED | BOOKED | BOOKED | BOOKED |
| Wed Aug 31 | BOOKED | BOOKED | BOOKED | BOOKED | BOOKED | BOOKED | BOOKED |
| Thur Sept 1 | BOOKED | BOOKED | BOOKED | BOOKED | BOOKED | BOOKED | BOOKED |
| Fri Sept 2 | BOOKED | BOOKED | BOOKED | BOOKED | BOOKED | BOOKED | BOOKED |
| Sat Sept 3 | BOOKED | BOOKED | BOOKED | room 4 | BOOKED | room 6 | BOOKED |
| Sun Sept 4 | BOOKED | BOOKED | BOOKED | room 4 | BOOKED | room 6 | BOOKED |
| Mon Sept 5 | BOOKED | room 2 | BOOKED | room 4 | BOOKED | room 6 | BOOKED |
| Tues Sept 6 | BOOKED | room 2 | BOOKED | room 4 | BOOKED | room 6 | BOOKED |
| Wed Sept 7 | BOOKED | room 2 | BOOKED | room 4 | BOOKED | room 6 | BOOKED |
| Thur Sept 8 | BOOKED | room 2 | BOOKED | room 4 | BOOKED | room 6 | BOOKED |
| Fri Sept 9 | BOOKED | room 2 | BOOKED | room 4 | BOOKED | room 6 | BOOKED |
| Sat Sept 10 | BOOKED | room 2 | room 3 | room 4 | BOOKED | room 6 | room 7 |
| Sun Sept 11 | room 1 | room 2 | room 3 | room 4 | room 5 | room 6 | room 7 |
| Mon Sept 12 | room 1 | room 2 | room 3 | room 4 | room 5 | room 6 | room 7 |
| Tues Sept 13 | room 1 | room 2 | room 3 | room 4 | room 5 | room 6 | room 7 |
| Wed Sept 14 | room 1 | room 2 | room 3 | room 4 | room 5 | room 6 | room 7 |
| Thur Sept 15 | BOOKED | room 2 | room 3 | room 4 | room 5 | room 6 | room 7 |
| Fri Sept 16 | BOOKED | BOOKED | BOOKED | BOOKED | room 5 | room 6 | BOOKED |
| Sat Sept 17 | BOOKED | BOOKED | BOOKED | BOOKED | room 5 | room 6 | BOOKED |
| Sun Sept 18 | room 1 | room 2 | BOOKED | room 4 | room 5 | room 6 | room 7 |
| Mon Sept 19 | room 1 | room 2 | room 3 | room 4 | room 5 | room 6 | room 7 |
| Tues Sept 20 | room 1 | room 2 | room 3 | room 4 | room 5 | room 6 | room 7 |
| Wed Sept 21 | room 1 | room 2 | room 3 | room 4 | room 5 | room 6 | room 7 |
| Thur Sept 22 | room 1 | room 2 | room 3 | room 4 | room 5 | room 6 | room 7 |
| Fri, Sept 23 | room 1 | room 2 | room 3 | room 4 | room 5 | room 6 | room 7 |
| Sat, Sept 24 | room 1 | room 2 | room 3 | room 4 | room 5 | room 6 | room 7 |
| Sun Sept 25 | room 1 | room 2 | room 3 | room 4 | room 5 | room 6 | room 7 |
| Mon, Sept 26 | room 1 | room 2 | room 3 | room 4 | room 5 | room 6 | room 7 |
| Tues, Sept 27 | room 1 | room 2 | room 3 | room 4 | room 5 | room 6 | room 7 |
| Wed Sept 28 | room 1 | room 2 | room 3 | room 4 | room 5 | room 6 | room 7 |
| Thur Sept 29 | room 1 | room 2 | room 3 | room 4 | room 5 | room 6 | room 7 |
| Fri Sept 30 | room 1 | room 2 | room 3 | room 4 | room 5 | room 6 | room 7 |
| Sat Oct 1 | room 1 | room 2 | BOOKED | room 4 | room 5 | room 6 | room 7 |
| Sun Oct 2 | room 1 | room 2 | BOOKED | room 4 | room 5 | room 6 | room 7 |
| Mon Oct 3 | room 1 | room 2 | BOOKED | room 4 | room 5 | room 6 | room 7 |
Useful links & info